Computer instruction is offered to older adults who want to learn how to use the computer to further enhance their everyday lives, be more informed and explore news in the information age. Our computer learning center was launched in 1996 with the intent of teaching computer basic usage to adults who were just entering the technology world. Now we are focused on "keeping up" with changes and challenges of advancing technology and tools.
ShepNet Computer Center is coordinated by volunteers who know and enjoy technology. Instructors teach classes ranging from very basic to advanced with a coach stationed between every two students for an individualized and supportive learning environment.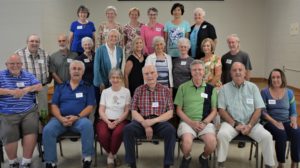 Topics include Windows 10 and special classes on its new features, Photo Editing, Family Tree, Security Issues, plus topical seminars. In 2014-15 we added iPad and iPhone classes; in 2018 we added Android Phone and Password software classes.
In 2019 we added Friday ShepNet Labs for current and past students who want one-on-one support, help, or updates on class materials. They may bring their laptops to the Labs or use the computers onsite for assistance. The rules for attending the Friday Labs are required reading...click here.
Some classes fill quickly and it is estimated that more than 4000 registrants have completed a ShepNet course since 1996. That's a lot of older adults keeping up with technology!
Our classrooms are located at Starmount Presbyterian Church (3501 W. Market Street).  
Check our website frequently for new class postings or go to the ShepNet web page to register and pay for a class, or to sign up for computer class emails (CLICK here).
______________________________________________________________________________
In an email to ShepNet students on 6/4/19: I want to inform you that we learned the unexpected news that Ed Pring passed away on Friday, 5/31. He was your teacher, your guide, your tech guru, team leader, go-to man for computer questions, your friend.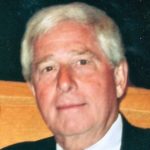 He was the key leader of the ShepNet Computer Center for over 19 years. With his knowledge and interest in computers, he helped develop our unique programs that you depend on for skills and staying up-to-date in this busy world. Ed gave a thousand hours of volunteer service every year, behind the scenes and in the front of your classroom. He reached out into the community and loved working with older adults.
It is so difficult to send sad news via an email, it seems just too impersonal, especially for such a gregarious person as Ed. But he was connected to so many of you in so many different ways that we did not want to leave anyone uninformed.
Ed's wife, Kay, his children, grandchildren and family are in our prayers. May we have a time in the near future when we can share some of our stories with them.
Our ShepNet team of volunteers have met to plan how we can all support the center and programs that Ed developed …it's quite a wonderful legacy …a grand gift from a unique man. We are in the process of designing a fitting tribute to Ed. If you have any thoughts/stories, or questions that I can help with, please email me at executivedirector@shepctrg.org or call me at 336-378-0766.
On behalf of the ShepNet Team and SCG, Sandy Doyle-Jones
S